< BACK TO What We Do
Special Processes
From day one, our focus has been on specialized processes that can significantly improve products for multiple industries. These processes are at the core of our business and are the reason we improve component performance throughout many industries.
Year after year, we have continued to develop our knowledge and capabilities, and we now offer one of the longest lists of in-house processing solutions in the world. Currently our roster includes plating, metalizing, furnace brazing, welding, machining and dynamic balancing among others.
Plating
We offer both chemical conversions and electrodeposited plating for engineered deposits, corrosion prevention or processing preparation — all of which are processed and certified to national standards. Engineered deposits include multiple options in nickel, chromium, copper, tin, and silver, while our corrosion prevention and processing preparation include options in anodizing, phosphating, zinc, and cadmium, as well as multiple active metal sealings and picklings.
Metalizing
Using either flame, plasma, wire arc or cold spraying techniques, we can apply abradable, ceramic, carbide and fusible coatings to a wide array of substrates. We also employ a robotically applied High Velocity Oxygen Fuel (HVOF) system for applying thermal coatings with properties comparable to plating, with minimal environmental impact.
OUR SPECIAL PROCESS CAPABILITIES:
Manual application of a metalized coating
A thermal spray technician applies a bond coating to a thin-walled complex curve to aid in adhesion of the final dimensional build coating.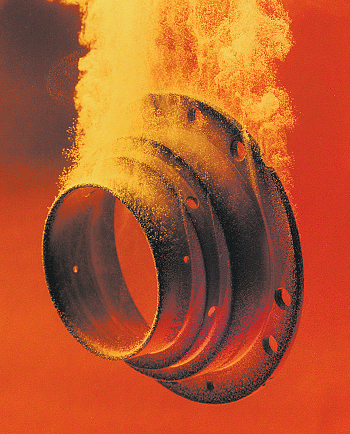 Housing being actively plated
A brake housing receiving a uniform deposit of electroless nickel plating for enhanced corrosion and wear resistance.