The Super 7 Coating Solutions
Our customer favorites, chosen for their extraordinary benefits and cost-saving qualities. The Super 7 ensures high-performance and prolonged durability for your components.
Maximize the ROI of your agricultural and industrial components with our superior plating and coating services. We expertly apply protective layers onto metal surfaces, slowing wear and enhancing durability. Trust in our over 65 years of excellence to increase your operational efficiency and yield a higher return on investment.
We offer one of the most diverse range of in-house processing solutions in the world, including plating, metalizing, furnace brazing, welding, machining, and dynamic balancing. These services meet varied needs while promising quality and cost-effectiveness.
#1 Zinc Plating (clear & yellow)
Zinc plated components (yellow & clear)
TOP BENEFITS: Corrosion protection • Aesthetics
1.   Excellent Corrosion protection.
2.   Cost effective.
3.   Clear or yellow for basic protection or add our CS-500 sealant for enhanced protection.
4.   Improves Cosmetic appearance of components.
5.   All chromate finishes are RoHS and REACH compliant.
6.   Plating will not fill holes and recesses or create heavy build- up on threads. Plating has minimal impact on dimensional tolerances.
BEST USED FOR:
Bolts, screws, springs, fasteners, crank handles, pins and many other types of components and hardware. Also excellent corrosion protection layer under painted/powder coated surfaces.
Learn more>
#2 Zinc Nickel Plating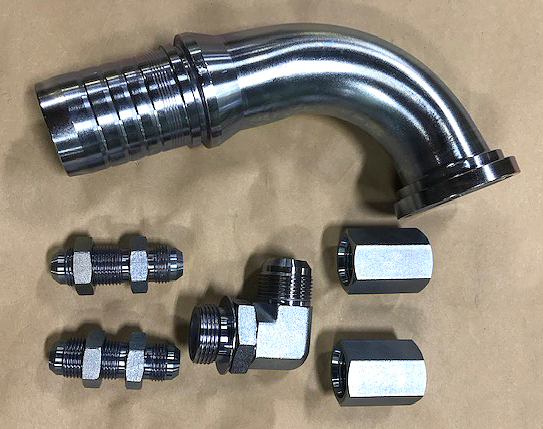 Zinc nickel plated components
TOP BENEFITS: Corrosion protection • Aesthetics
1.   Offers outstanding corrosion resistance, even in high-salt and low-thickness environments.
2.   Environmentally friendly in comparison to Cadmium plating.
3.   Corrosion can extend beyond 2,000 hours to red rust with high performance chromates/sealant, with up to 10 times protection over conventional zinc plating.
4.   All chromate finishes are RoHS and REACH compliant.
BEST USED FOR:
Ideal for components subject to harsh environments. Excellent corrosion protection when used as an undercoat treatment before paint or powder coat finishes.
Learn more>
#3 Hard Chrome Plating
Hard chrome plated augers
TOP BENEFITS: Wear protection • Corrosion protection
1.   Superior wear and corrosion resistance.
2.   Low friction and anti-seize.
3.   Applications ranging in thickness from 0.001" – 0.025"
BEST USED FOR:
Often applied to tools and components that need to withstand a lot of wear, such as augers, hydraulic cylinders and other exposed parts that experience wear.
Learn more>
#4 Electroless Nickel Plating (eNickel)

Electroless nickel plated pin
TOP BENEFITS: Wear protection • Corrosion protection • Low friction
1.   Creates an even layer of metal, regardless of the geometry of the surface.
2.   Doesn't require electrical power, electrical apparatuses, or sophisticated jigs and racks.
3.   Can produce coatings free of built-in mechanical or competitive stress.
4.   Provides corrosion and erosion resistant and provides excellent lubricity.
BEST USED FOR:
Hydraulic pins, augers, shafts and various other parts requiring extended life solutions.
#5 CS-1000 Thermal Coating
CS-1000 thermal coated auger
TOP BENEFITS: Wear protection • Impact protection • May add traction
1.   Cost effective extreme wear solution.
2.   Offers corrosion protection.
3.   Initial hardness approx. 60HRC and abrasive hardens with use up to 72HRC.
4.   Can be applied to improve traction.
BEST USED FOR:
Any component in agriculture or industrial use that encounters a lot of wear.
#6 HVOF Tungsten Coating
HVOF tungsten coating on pump components
TOP BENEFITS: Extremely hard • Precise deposits
1.   Highly dimensionally controlled coating for extreme wear applications.
2.   High density and bond strength with HVOF application of coating.
3.   Superior wear characteristics for critical components.
4.   Can be used to replace chrome.
BEST USED FOR:
Critical components that experience wear due to abrasion.
#7 Spray and Fuse

Spray and fuse coated shaft
TOP BENEFITS: Heavy duty wear protection
1.   Numerous different types of applications depending on the environment the component is exposed to.
2.   0.02" – 0.03" thick coating for superior wear.
3.   Hardface overlay alternative.
BEST USED FOR:
Heavy duty industrial components.
Learn more>
OUR SPECIAL PROCESS CAPABILITIES:
Our Processes & Capabilities at a Glance (pdf) »
Contact Adam for more info
Adam Gamble
Director of Business Development
e-mail:   [email protected]
phone:  204.985.1317
cell:  204.228.6301
Join our newsletter today!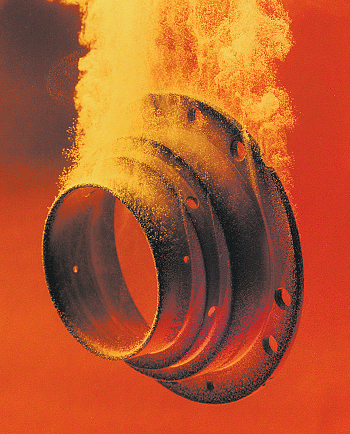 Brake Housing Undergoing Active Plating
A brake housing receiving a uniform deposit of electroless nickel plating for enhanced corrosion and wear resistance.